If you are looking for: professional chef, help designing the menu, help preparing meals.
We are here for you!
On Sunday, December 1, a new restaurant called Bali's, owned by the Bali family, opened in Donja Dubrava. The restaurant is located in the building
More»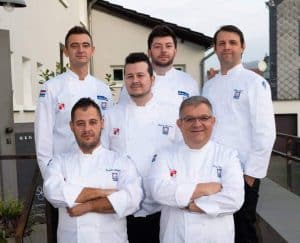 We are honoured to present the CHEF.hr team who will compete at the Culinary World Cup in Luxembourg in the category of Community Catering 27.11.2018. Preparing a
More»
11 and 12 June 2018,  the Bocuse d'or was held in Torino, Italy where the forces measured the chefs from 20 European countries, and our
More»
WE ARE LOOKING FOR CHEFS, WAITERS AND PASTRY CHEFS FOR INTERNATIONAL CLIENTS
WANT TO BE PART OF OUR TEAM?
Are you a trained chef, waiter or pastry chef? Eager to experience new and challenging tasks? Join our team. Want to find out more? Sign up through our inquiry, please indicate your experience, expertise, skills and your aspirations regarding jobs.