If you are looking for: professional chef, help designing the menu, help preparing meals.
We are here for you!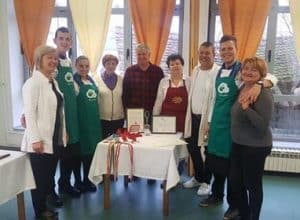 Our team is 11/16/2017. at the Zabok High School held a workshop for students of culinary orientation on the topic of modern cooking techniques as
More»
Crown work, recognition and certification awarded by World Chefs Association as a guarantee of quality, long-term work, acquired knowledge and lifelong investment in the progress
More»
August 26 and 27, 2017. we participated in the 5th International Jam Festival in Gabali, Azerbaijan, presenting Croatia's jams produced in Bilogora. The jams were
More»
WE ARE LOOKING FOR CHEFS, WAITERS AND PASTRY CHEFS FOR INTERNATIONAL CLIENTS
WANT TO BE PART OF OUR TEAM?
Are you a trained chef, waiter or pastry chef? Eager to experience new and challenging tasks? Join our team. Want to find out more? Sign up through our inquiry, please indicate your experience, expertise, skills and your aspirations regarding jobs.